Services: Responsive web design with conception, screen and communication design, user experience, customer journey, data binding for the quarter festival online submission and dynamic filter system of the event offer, interactive and filter-selective map displays with linked lists of results
With the relaunch of the website www.viertelfestival-noe.at , we have created an appealing and professional website for the Lower Austrian cultural network (Kulturvernetzung NÖ) in a future-proof and contemporary full responsive design. The substantive content, such as the program and motto, was brought much more to the fore. New elements and a new active color now give important information the attention it deserves and needs.
The design is geared towards the interests of the visitors and offers the user a broad information experience. An important feature here is that the presentation of the content has been divided according to target groups. One part is dedicated to the visitors who want to find out more about projects and events and the other part is addressed to the organizers – artists, partners and the press. Using a modern interactive map (OpenStreetMap), users can view all events of the quarter festival and filter them precisely according to their individual needs (accessibility, family-friendliness, etc.).
The new design simplifies the structure of the content, thereby achieving a better overview and leading to the desired information with just a few clicks. Since the user behavior of mobile users differs significantly from other user groups, the presentation of the content for mobile devices has not only been optimized, but also adapted to allow the content to be navigated independently.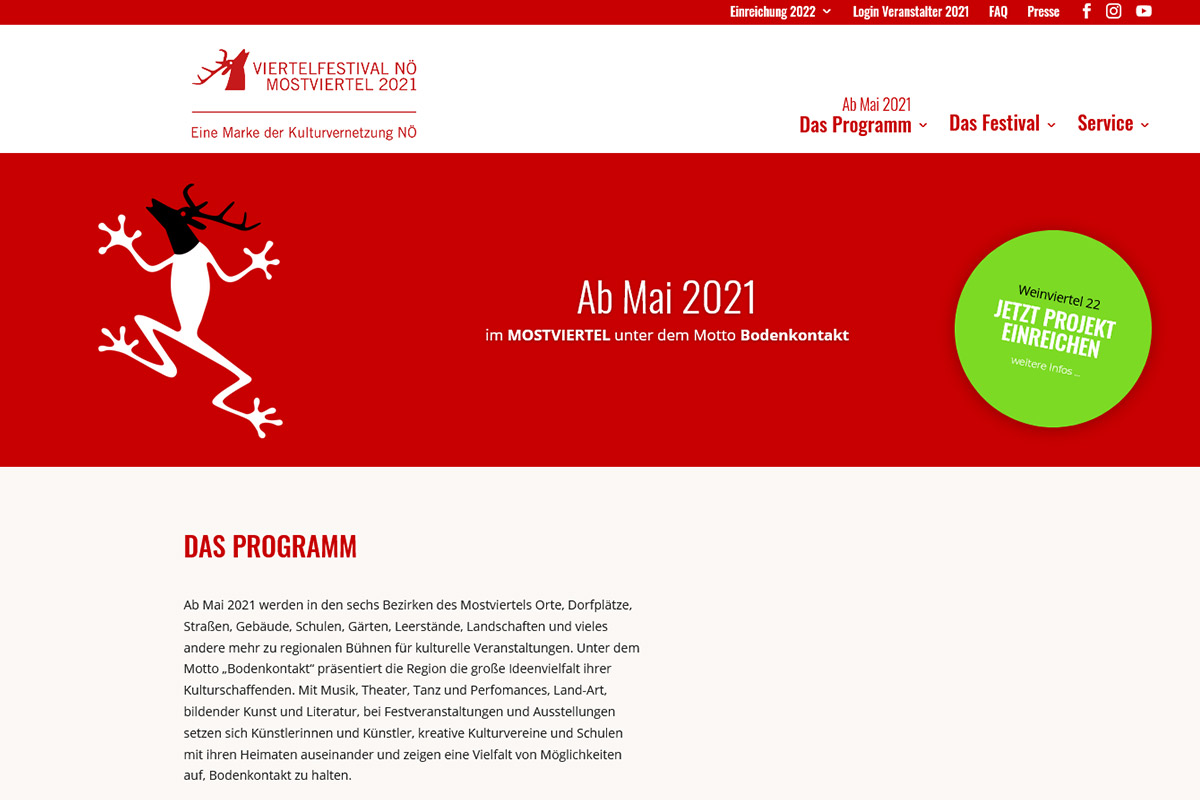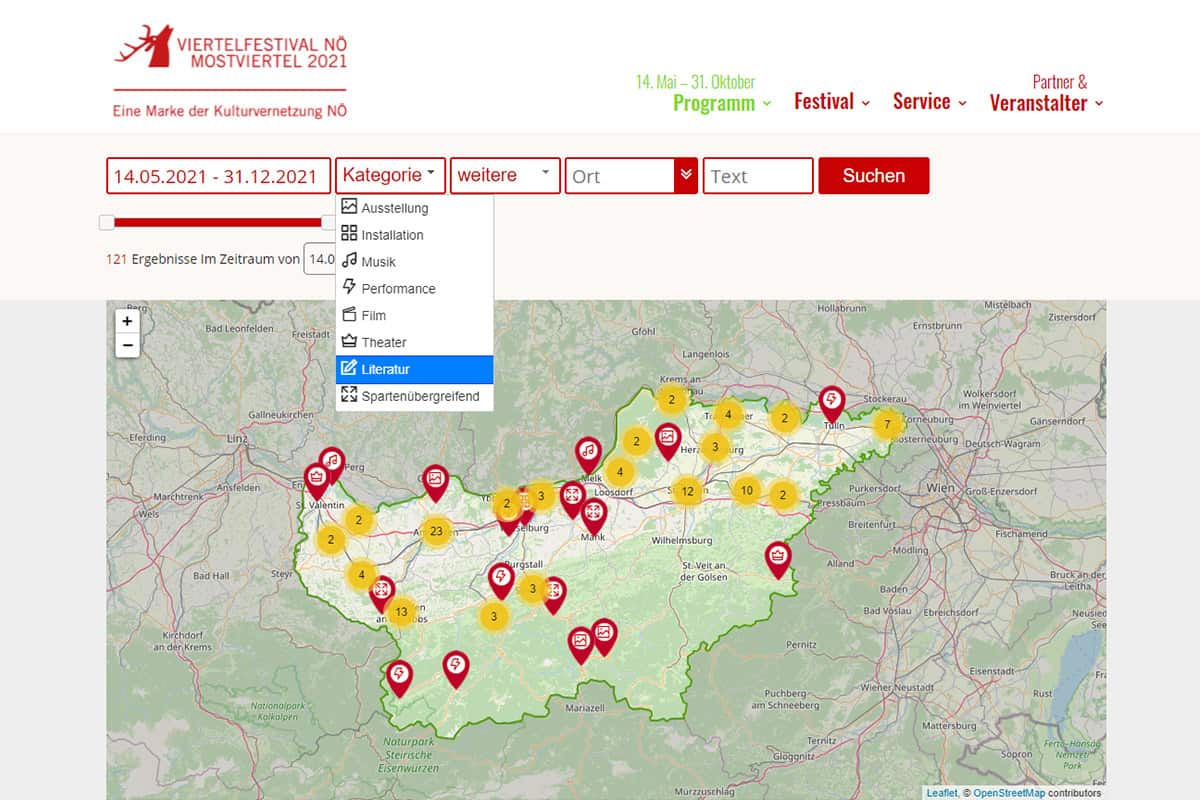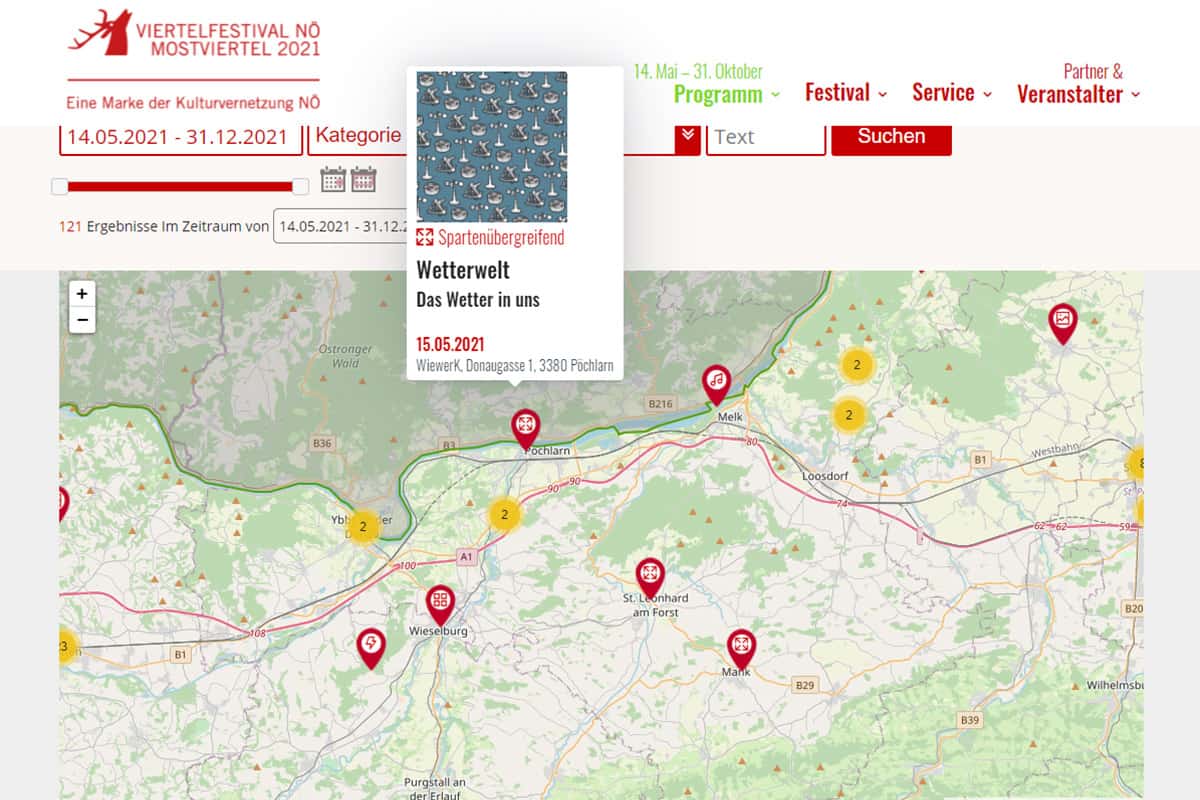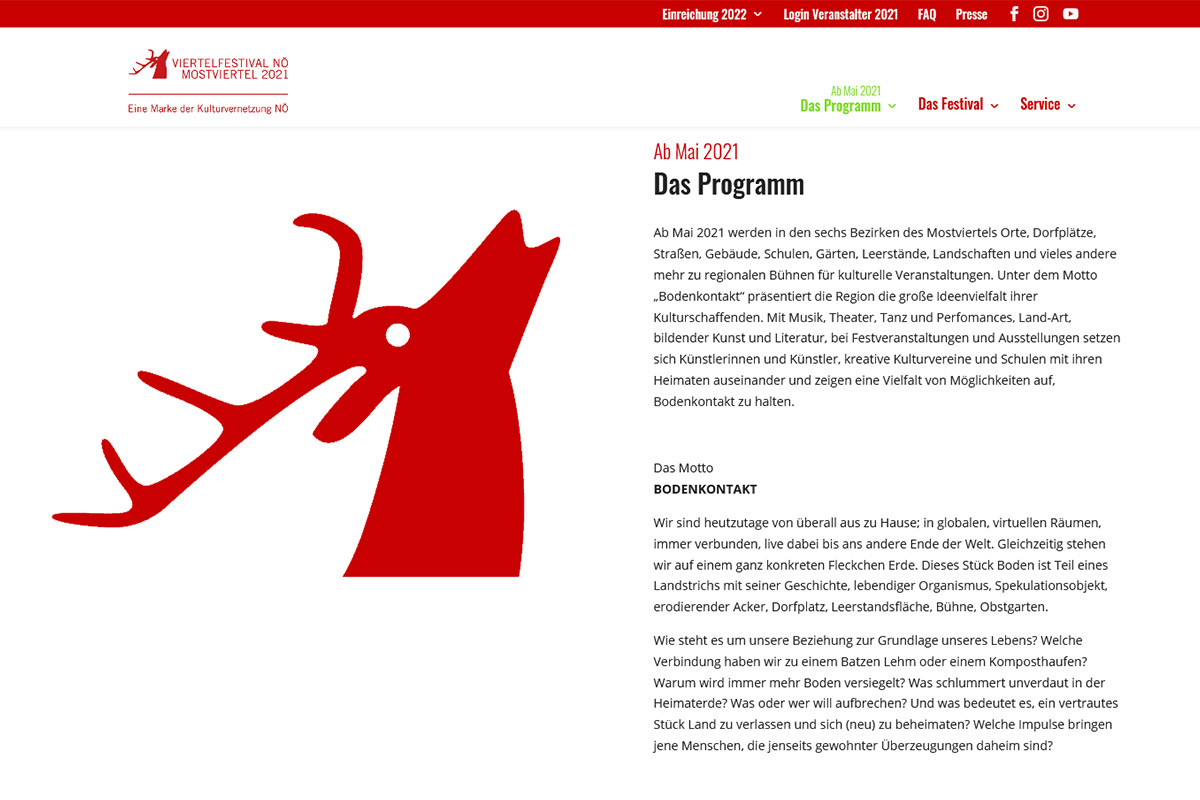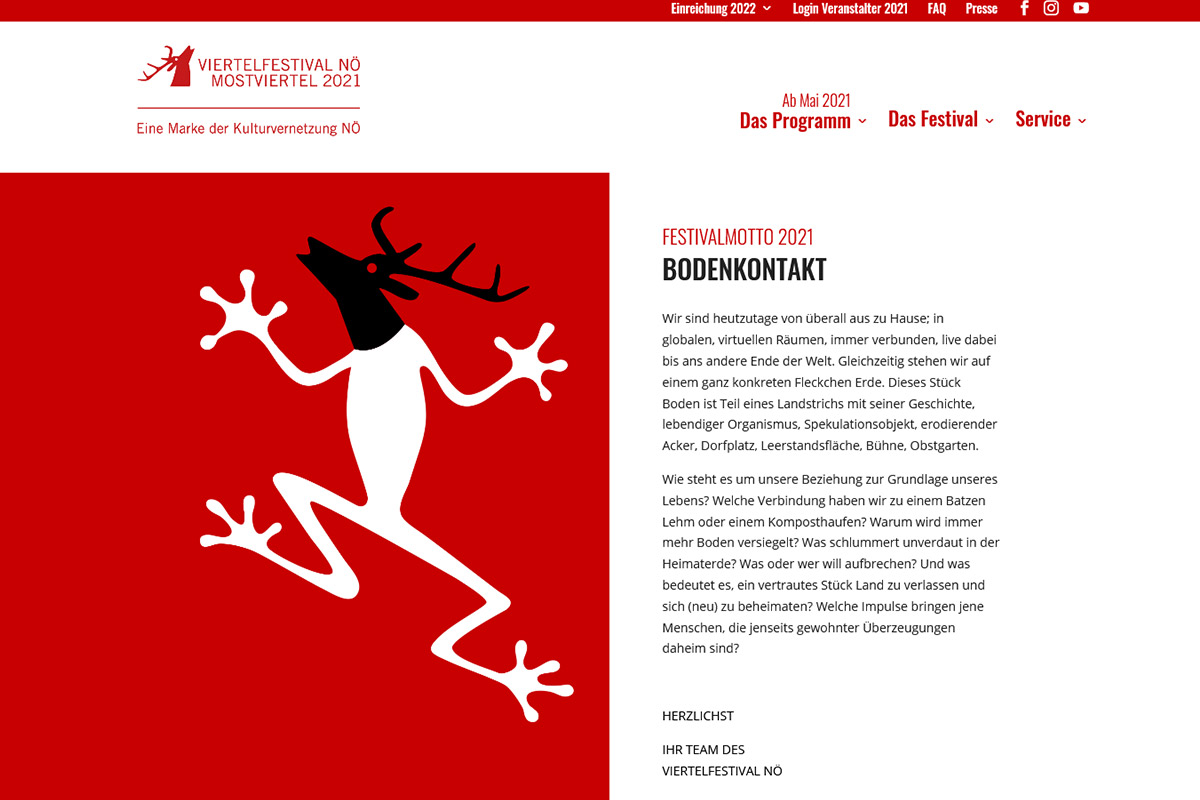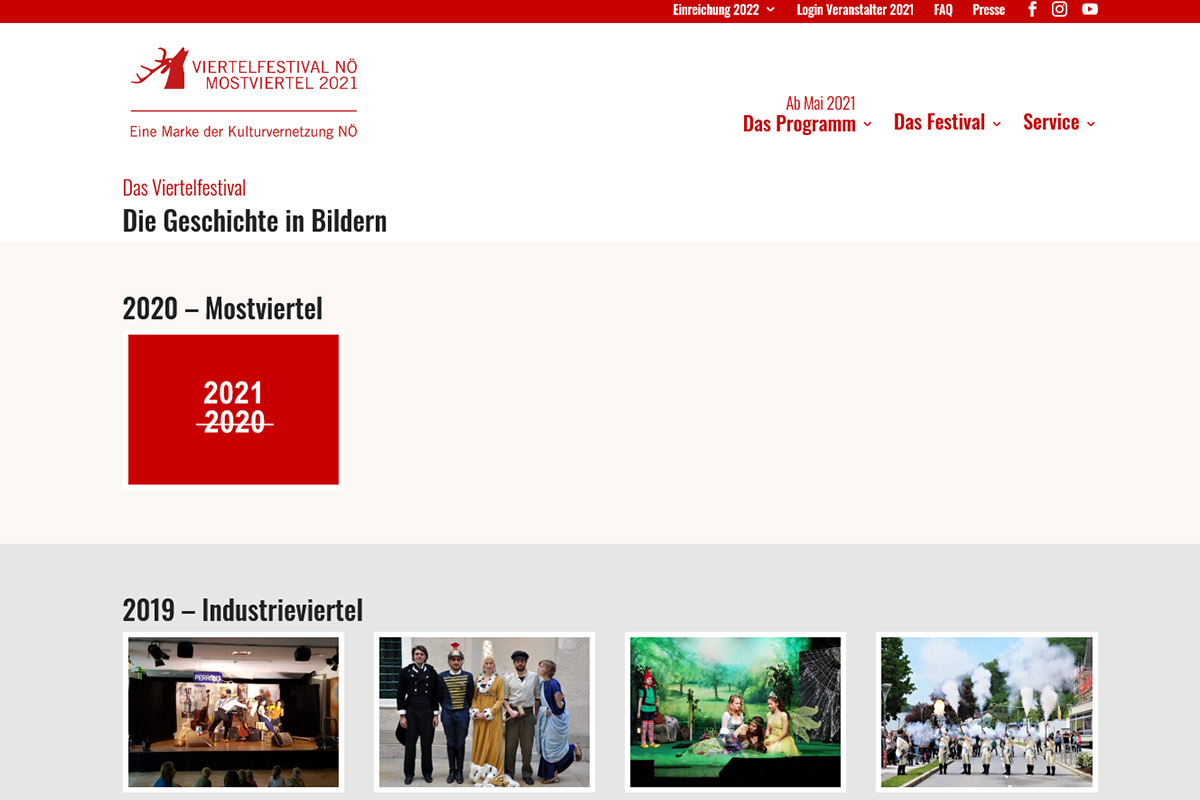 The Viertelfestival Niederösterreich (Lower Austria Quarter Festival) presents the exciting diversity of Lower Austrian regional culture. Art and cultural projects by artists from the region, creative ideas from associations, artists, cultural initiatives and school projects are implemented on site and attract a wide audience. The Viertelfestival Niederösterreich is the cultural local supplier in all four quarters of the province of Lower Austria.
From May to August, the Lower Austria Quarter Festival brings culture to your doorstep. Every four years, the Weinviertel, the industrial district, the Mostviertel and the Waldviertel become the center for regional culture. With the annual art and culture festival, the state of Lower Austria supports projects in the local cultural scene.
The Viertelfestival Niederösterreich is a brand of the Kulturvernetzung Niederösterreich (cultural network Lower Austria).