Google My Business (GMB) is the platform on which company presences are managed via Google. This free and easy-to-use tool enables your company to appear on the Local Pack as well as in a range of diverse results and to control your visibility in a targeted manner – for example in which form your information is presented to the users.
Every entrepreneur should have a GMB profile and also know how it appears in the various Google results. The result lists include the Google Knowledge Panel, Local Pack and Google Maps.
Google Knowledge Panel
This is the information field that appears on the desktop at the top right or on the smartphone at the top of the display page when a user carries out a search specifically for your company.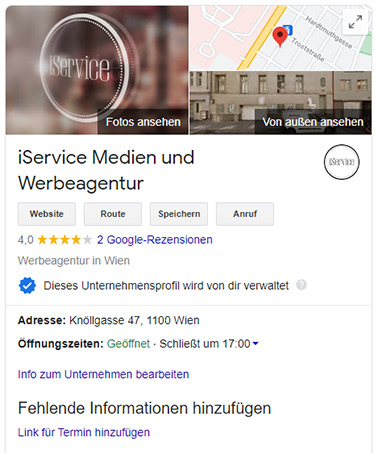 Foto © Google
Google Local Pack
When a user performs a localized search, the three business listing results shown below the map are understood as the Google Local Pack. The searcher receives the following information with the Local Pack:
Location / map placement
Telephone number or call button
Company name
Opening hours
Reviews
Address
Branch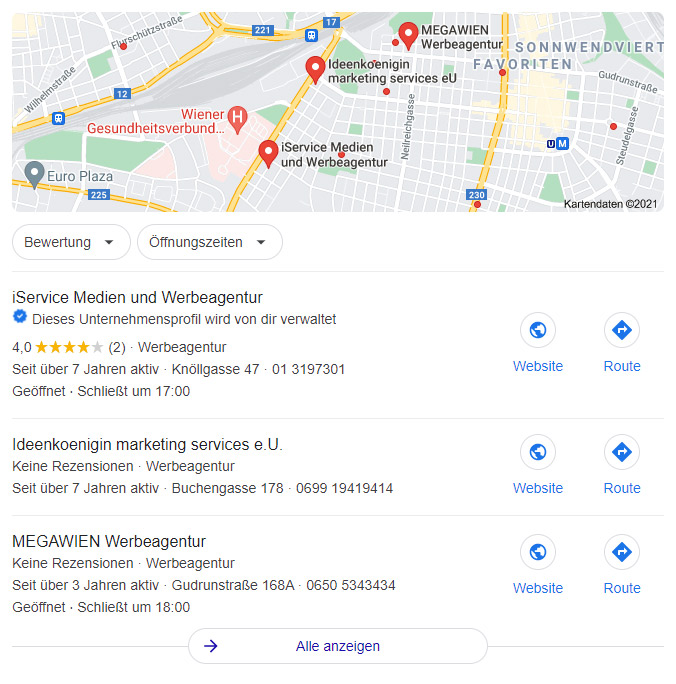 Foto © Google
Google Maps
Google Maps helps the users looking for directions and discovering companies and locations. Using a localized search, users can also find specific companies and see their location. With the help of Google Maps, users can go directly to a company's website or have a suitable route to the company's location calculated. This information is also displayed:
Company name
Reviews
Address
Opening hours
Branch
Contributions
Photos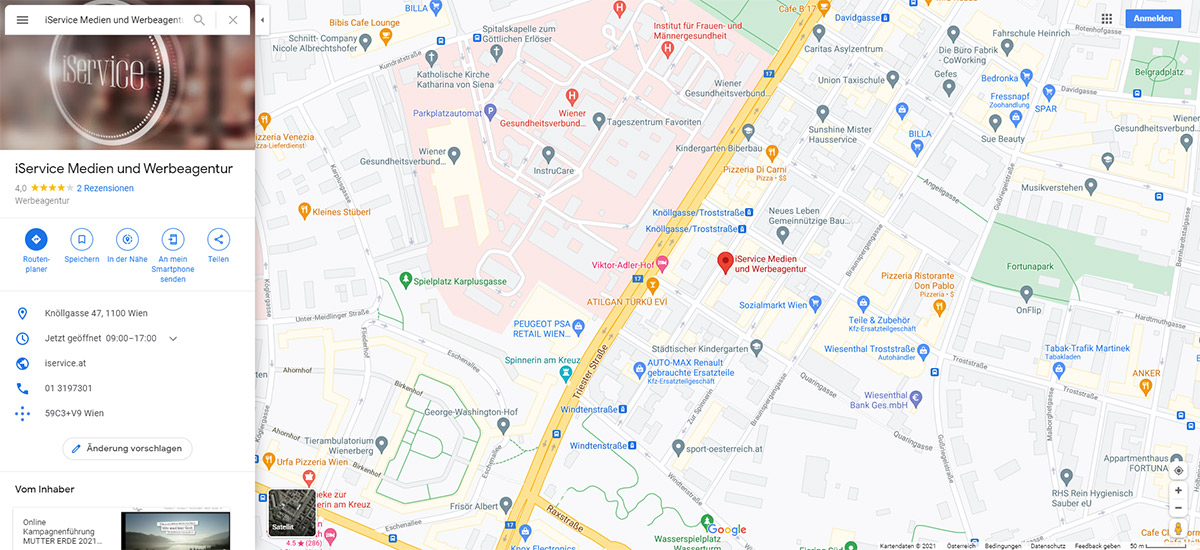 Foto © Google
Google My Business shows the company's location in relation to the consumer and enables them to make their decision. More than half of all mobile search queries relate to local searches, which means that if there is a store nearby whose service a user is looking for, the likelihood that that person will visit that store increases.
Google My Business
You can use Google My Business to introduce your company to the public.
Google's search results are central to raising awareness. In the meantime, a company's online presence is the key to economic success. That's why every entrepreneur should have a listing on Google My Business.
Do you need support with your online presence?
Get in touch with us, we will be happy to advise you.